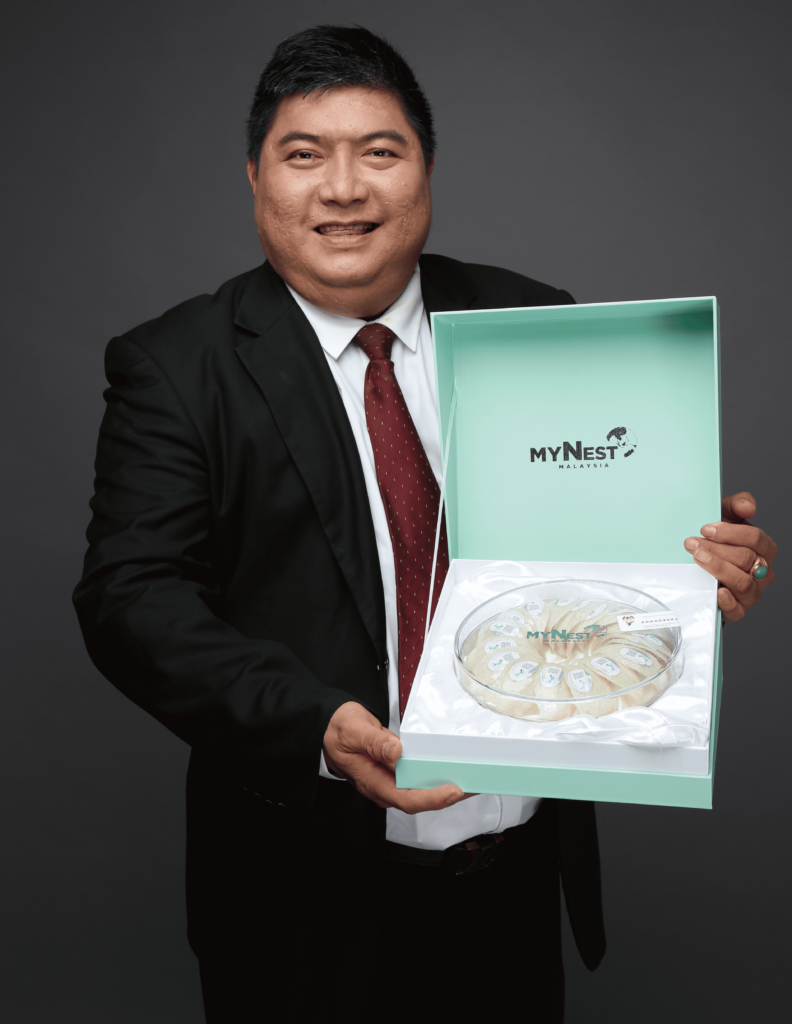 In 2005, Dato' Chua Huai Gen founded CME POWER, a company whose main business is electrical engineering. By coincidence, he entered the Bird's Nest industry and established Bird's Nest Production in 2007 in Batu Pahat, Johor to engage in the maintenance, repair and service of Bird's Nest houses.
In 2008, the company added the design and construction of Bird's Nest farms and trading of Bird's Nest related products to its previous business. In 2010, he established MyNest Group to lead his team and add new energy to the Malaysian Bird's Nest industry.
Interview Clip with
Dato' Chua Huai Gen
Experiencing two downturns in Bird's Nest industry
In life, there are ups and downs, and his career also has its low points. In 2011, when the Chinese government found that the imported bird's nest did not meet the standard and ordered a ban on the import of foreign bird's nest. "During that period, the supply of bird's nests was in excess, and the price dropped drastically. In Malaysia, the price of bird's nest dropped from RM5,000 to RM2,000 overnight, and the farmers stopped harvesting bird's nest, the factories stopped production, and the price of bird's nest dropped from RM5,000 to RM2,000 overnight."
After 2 years, he was invited to China several times with the Ministry of Agriculture and the Veterinary Bureau to seek regulations on the importation of bird's nests. After several meetings, the Chinese and Malaysian governments decided to set up an inspection bureau to strictly check the imported bird's nests. However, each piece of bird's nest has to be labeled and labeled with a four-dimensional code, and if there is any problem, the two governments will hold the original manufacturer accountable.
The second time was due to the epidemic of bird's nest disease, Chinese tourists were not allowed to come to Malaysia, which hit him hard in his bird's nest tourism business. No Chinese tourists have come to Malaysia to buy bird's nests for 3 years, and the loss is expected to reach 6.5 million.
Today, Asia Walit is recognized as the best brand of bird's nest in China, which is safe and healthy for people to buy and eat.
Bird's Nest Cultural Center established by Dato' Chua Huai Gen
Developing the Middle East Bird's Nest Market
In Malaysia, the Chinese have long known how to eat bird's nest to nourish and nourish their skin. However, it is only in recent years that Malay compatriots have started to come across this health food.
According to Dato' Chua Huai Gen, many elite Malay political leaders and corporate bosses have started stewing bird's nest for consumption. Just like the Chinese, they are slowly getting to eat Durian, it will take time to promote it.
In the future, he would like to tap into the Middle East Islamic market, which is not like the Chinese who can stew bird's nest. We will let them drink bird's nest coffee and use bird's nest products first, so that they can understand the charm and efficacy of bird's nest.
"At present, bird's nest company has dozens of processed bird's nest products, including coffee, face masks, health products, loquat cream, bird's nest honey, bird's nest strips, bird's nest biscuits and ready-to-eat bird's nest bottled products, so that Middle Eastern customers can taste the benefits of bird's nest.
University Putra Malaysia (UPM) Edible Bird's Nest Research Collaboration
4th Malaysia Agro Excellence Awards for Outstanding Agriculture Quality Product Excellence
International Prestige Brand Awards for Best Brand in Quality Original Edible Brid's Nest Producer of the Year Award 2019
2019 Annual Awards Ceremony of China's Influential Enterprise Brand Award